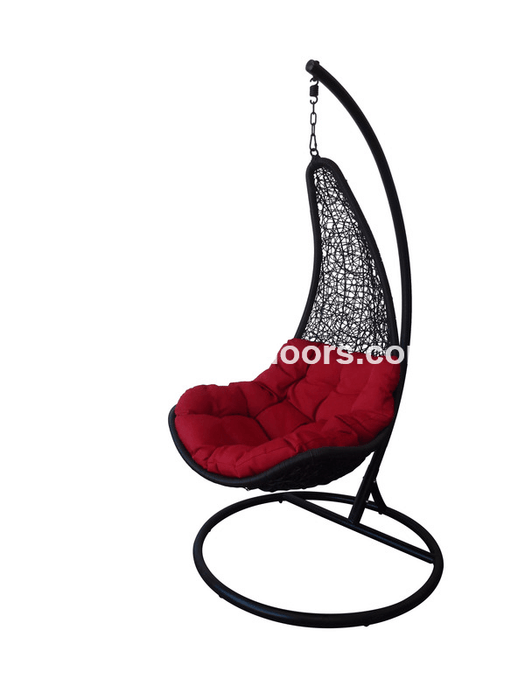 Features:
- Hand woven UV resistant and all weather PE Rattan wicker
- Powder Coated Iron Frame
- Suitable for both indoor & outdoor settings
- Polyester water repellant & ultra plush red OR off white cushion included
- Supported by stainless steel chain and chromeplated steel spring
- Basic assembly required
- Supports maximum weight: 140Kg
- SET INCLUDES 1.8m STAND
Dimensions:
79cm (Long) x 81cm (Depth) x 133cm (High)
Warranty:
12 Months
Delivery Time:
All orders are usually dispatched within 24 hours of receipt of payment
SKU:
HC-Empezar
Please email sales@bareoutdoors.com.au if you want us to place one on hold for you.
Glame up your indoors/ outdoors with our range wicker furniture. Get comfy in Bareoutdoors' Indoor/ Outdoor Hanging Chair and watch the day float by. These chairs are the most popular interior or exterior pieces of furniture. Not only are they easy on the eye but they serve a purpose both indoors and outdoors. The chair is constructed from strong and sturdy PE Rattan which has been hand woven and teamed up with soft plush waterproof pillows. What you have is a timeless piece of elegance and practicality for an extremely affordable price. All cushions are provided and machine washable. The chair is support by a sturdy steel frame which supports up to 140kgs. The iron stand is rust-proof, powder coated and engineered to support 140kg. Dare to stay awake in bareoutdoors' outdoor pod chair. PE Rattan is low maintenance and 100% recyclable. It's UV and weather-resistant too, for lasting durability. Simply wipe it down with mild soap to clean.